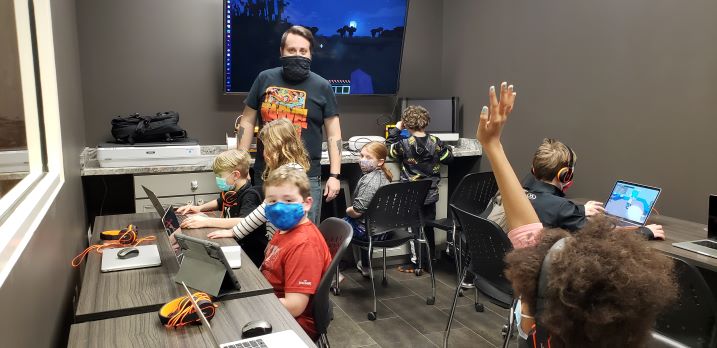 PRESQUE ISLE, Maine— Josh Archer recently joined the Wintergreen Arts Center Board of Directors. Born in California, Archer spent his younger years between the Los Angeles area and Bangor, Maine, finally settling in Presque Isle while in high school.
Archer has a long history with the Wintergreen Arts Center dating back to the organization's beginning in 2006, when he volunteered his technical skills and first introduced film making to the emerging nonprofit.
Since January 2020, Archer is back at Wintergreen expanding the arts center's afterschool digital arts program in leaps and bounds. Meeting each student's individual needs, Archer helps them learn coding, design, and other technical skills through fun, creative activities such as video game development and building robots.
Sharing his technical knowledge and enthusiasm for all things digital, Archer enjoys teaching kids the joy of learning while discovering their own unique ability to communicate in a more efficient and creative way through technology.
Archer is an award-winning videographer, writer, and photographer with 15 years of experience working in television, radio, print, and web. He believes his life experiences, technical curiosity, and passion for helping others have brought him home to Wintergreen.
"Helping these kids discover their talents and experience the thrill of creating makes me happy," said Archer. "I was once 'that' kid who needed understanding. And, if serving on our board, helps make Wintergreen stronger, I am all in."
"Josh is a huge talent and an amazing human being," said Dottie Hutchins, Wintergreen's executive director. "His desire and capacity to help each and every student succeed brings a beautiful perspective to our board of directors."
Josh Archer currently resides in Presque Isle with his wife Mallory and their three children, Sophie, Jack, and Elliott.
About Wintergreen Arts Center:  The Wintergreen Arts Center is a 501(c)(3) nonprofit organization founded in 2006, and located in Presque Isle, Maine. Wintergreen is an organization based on the idea that creativity, advocacy, and community can produce great things. Our mission is to provide meaningful experiences that encourage an appreciation of the arts, stimulate creativity and innovation, and offer an artistic community space where all are welcome.