Sorry, no Ladies' Art Night in April due to Spring Vacation.  See you in May!
Ladies' Art Night
March 15, 2018
6:00 pm – 8:00 pm
Handmade Paper Bead Jewelry
What woman ever has enough bling?  Want to have fun, learn to make your own bling, and be "green" too?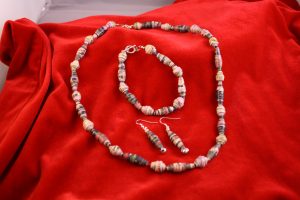 Please join Kim Smith on March 15, at 6:00 pm and learn how to make paper bead bracelets with multi-colored paper.
Once you see how fun and easy it is, you can make more from home with friends and family using recycled paper from calendars, magazines, leftover wrapping paper, or colorful scrapbooking sheets!
This event is open to all.
($5.00 suggested donation)