First Friday Downtown Art Walk
Autistic Faces of Aroostook County
by Maeghan Swanson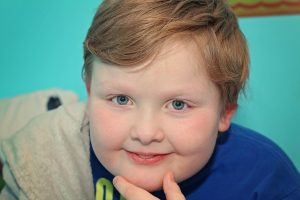 Friday, April 5, 2019
6:00 pm to 8:00 pm
PRESQUE ISLE, Maine—Wintergreen Arts Center is featuring Autistic Faces of Aroostook County, a collection of photographs by local photographer Maeghan Swanson during the month of April, World Autism Month.
"This show is something I have wanted to put together for a long time," said Swanson. "Inspired by my beautiful son who was diagnosed at the age of three, I have continually strived to raise awareness and acceptance for our autistic community in northern Maine, across all walks of life, and in this particular case, in the world of the arts."
Beside each photograph, Swanson displays an original piece of artwork created by the individual in the photograph. Her goal is to help people move first from awareness of autism, to acceptance, to a place of inclusion for all.
Swanson added, "There is no better venue to showcase inclusion than art—there are no right, no wrong, no 'normal' works of art—all are unique and all are beautiful in its own way. This exhibit is a reflection of that sentiment."
A native of Massachusetts, Swanson and her husband Matthew moved to Aroostook County 11 years ago. They reside in Presque Isle with their two children, Kaeleigh, age 11, and 9-year-old Garrett.
"My passion for photography took flight once my children were born," said Swanson, wanting to capture all of the moments that were moving far too quickly. "What was a hobby quickly became a love, and under the guidance of a lifelong friend and professional photographer in the Boston area, I was able to learn and grow my photography."
Swanson's show includes photographs of people ranging in age from 3-years-old to adults.
Swanson points out, "So many people think of children when they think of autism and it is so important for them to be aware that there are many autistic adults in our community as well."
"Maeghan is an extremely talented and generous person," said Dottie Hutchins, executive director. "As co-founder of the Aroostook Autism Support Group, she has touched the lives of so many in such a positive way. We're looking forward to seeing her talent and passion on display during April, World Autism Month."
PHOTO: Garrett Swanson, age 9, Maeghan Swanson's son and inspiration for her photography show, Autistic Faces of Aroostook County