Wintergreen to feature local artist, writer Emily Knowles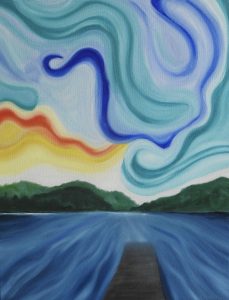 PRESQUE ISLE, Maine—Wintergreen Arts Center is featuring the work of local artist and writer Emily Knowles in June. Her opening reception will be held June 4, from 6:00 PM to 8:00 PM, during Presque Isle's First Friday Art Walk.
Emily Knowles is an emerging Maine fine artist and writer. Her paintings and writing are often inspired by the sun and ocean, trees and flowers, animals and kind humans, and just about anything spiritual. Almost every day of the year, Emily retreats to her studio with her dog, Brad Pitt, who loves to sleep at her feet.
"At the opening of each day, I cherish my time when I can sit in silence," says Emily. "And at the closing, when I sit in conversation." Emily Knowles' artwork and writing have been published in The Washington Post, Archetype, and Beyond Words Literary Magazine.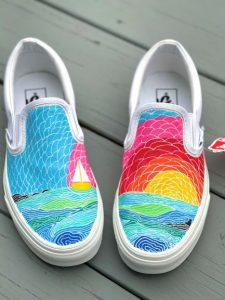 Emily and her family are excited to announce they have started a new project called Find Your Joy, in memory of Michael Swartz and Matthew Knowles.
"The project started when I designed a wave scene and painted it on the blank canvas of a pair of Vans [shoes]," Emily said. "I sell the shoes at cost. Instead of charging for labor and supplies, I ask my customers to make a donation to their local grief support or suicide awareness / prevention network."
Since Emily is also a writer, she wants to infuse the project with words. She believes in the power of healing through writing. Therefore, she has started to interview some of her customers, and she is helping them write their grief stories. Together, they are raising awareness for local charities. If they choose to participate, her customers are tagged on social media, as well as their businesses and their chosen charity.
As the project grows, Find Your Joy will be auctioning off a week's stay in sunny Florida in their vacation rental near Clearwater Beach.
People can stay in touch with Emily Knowles on Facebook, Instagram @emilyknowles_artist, or find her and her artwork at www.emilyknowles-artist.com.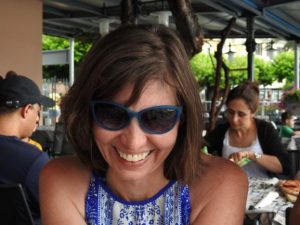 About Wintergreen Arts Center: The Wintergreen Arts Center is a 501(c)(3) nonprofit organization founded in 2006, and located in Presque Isle, Maine. Wintergreen is an organization based on the idea that creativity, advocacy, and community can produce great things. Our mission is to provide meaningful experiences that encourage an appreciation of the arts, stimulate creativity and innovation, and offer an artistic community space where all are welcome.