First Friday Downtown Art Walk
with Catherine O'Clair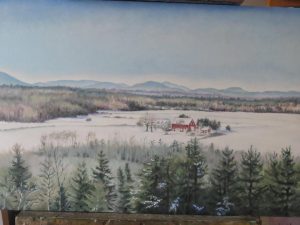 Wintergreen to feature the artwork
of Ashland native Catherine O'Clair
 Friday, February 1, 2019
6:00 pm to 8:00 pm
Presque Isle, Maine— Wintergreen Arts Center is featuring the work of local artist Catherine O'Clair during the month of February.  Her Opening Reception will be held February 1, from 6:00 pm to 8:00 pm, during Presque Isle's First Friday Downtown Art Walk.
An Ashland native, O'Clair worked for a computer company in the greater Boston area while taking night classes at the Massachusetts College of Art and Design where she studied graphic design, color, and production techniques.
It was later in life when O'Clair taught herself how to paint with watercolors and then oils.
While living with her family in the coastal village of Sorrento, Maine, O'Clair opened her own art gallery overlooking the Bar Harbor region on Frenchman's Bay.
"We leased the downstairs of our building to the Post Office," said O'Clair.  "It was a natural place for summer people to gather and talk.  So, when someone mentioned an art gallery opened around the corner, I sold out the first day."
Six years ago, O'Clair moved back to her hometown of Ashland.  She now paints her northern Maine surroundings replacing coastal scenes with familiar local landscapes and wildlife.
"I paint where I am," said O'Clair.  "Now that I am back in Ashland, I appreciate the views more than I did while growing up here.  I love capturing horizons and filling in below with something people recognize."
O'Clair's oil painting of the iconic Tilley Farm located in Garfield Plantation outside of Ashland is one example of her ability to stir emotion through her artwork.
"Seeing that farm and those mountains in the background brings back so many memories," said Dottie Hutchins, Wintergreen's executive director, also an Ashland area native.  "Cathy truly has a gift and loves to share it with others."