Wintergreen features new work by Filomena Irving in October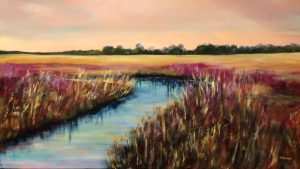 PRESQUE ISLE, Maine—Wintergreen Arts Center will feature the artwork of local artist Filomena Irving in October. The opening reception for her exhibit, Nature's Extravaganza: Seasoned for Change, will be held October 1, from 6:00 PM to 8:00 PM, during Presque Isle's First Friday Art Walk.
Filomena "Mena" Irving is a native of Toronto, Ontario, Canada, and a former middle school science teacher in Washburn. She is a prolific artist who started painting less than a decade ago launching a new career, Art by Filomena.
Irving's latest exhibit, Nature's Extravaganza: Seasoned for Change, is largely influenced by her imagination, the works of other artists, and the beauty that surrounds her.
"Our natural world is in perpetual motion," said Irving. "As we advance through the seasons we are reminded of its untamed beauty. We move from periods of lush growth and plenty to the starkness of winter."
Quoting Andrew Wyeth, Irving explains, "'Fall and winter give way to the bone structure of the landscape, but we know that beneath it something awaits. The whole story doesn't show.'"
It is Irving's hope that her current collection of artwork reminds the viewer of the potential for regrowth and change.
Irving works in acrylics and watercolor. Her subjects are predominantly landscapes, seascapes, and florals. Her passions for travel and gardening often translate themselves into her paintings.
A collection of the artist's wearable art will also be available including colorful headbands, scarves, beanies, and more.
Refreshments will be served with live music provided by Janice Santos. The event is free and open to the public.
Filomena Irving currently lives on a farm in Washburn with her husband Scott.
About Wintergreen Arts Center: The Wintergreen Arts Center is a 501(c)(3) nonprofit organization founded in 2006, and located in Presque Isle, Maine. Wintergreen is an organization based on the idea that creativity, advocacy, and community can produce great things. Our mission is to provide meaningful experiences that encourage an appreciation of the arts, stimulate creativity and innovation, and offer an artistic community space where all are welcome.