Holiday Gift Boutique with Filomena Irving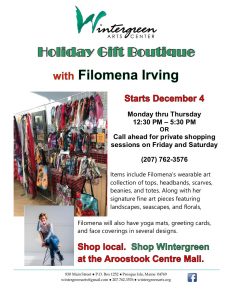 Presque Isle, Maine—Wintergreen Arts Center is featuring a Holiday Gift Boutique with local artist Filomena Irving during the month of December.
Due to COVID guidelines, there will be NO First Friday Reception on December 4. HOWEVER, our Holiday Gift Boutique with Filomena Irving is still OPEN for the MONTH OF DECEMBER! See below for regular hours and private shopping.
"Filomena's Holiday Gift Boutique at Wintergreen is a perfect opportunity for people to shop local this year," said Dottie Hutchins, Wintergreen's executive director. "The boutique will be open Monday through Thursday from 12:30 PM to 5:30 PM. We'll also offer private shopping times for folks who prefer to call ahead and come in alone."
Items for sale include Irving's wearable art collection of tops, headbands, scarves, beanies, and totes. Along with her signature fine art pieces featuring landscapes, seascapes, and florals, Irving will also have yoga mats, greeting cards, and face coverings in several designs.
Filomena Irving is a native of Toronto, Ontario, Canada, and a former middle school science teacher in Washburn.
Six years ago Irving burst onto the local art scene after attending a painting workshop hosted by the renowned artist, Tim Gagnon. That experience sparked a new career for Irving resulting in prolific art sales, commissioned pieces, a collection of wearable art including scarves, beanies, athletic wear, as well as bags, yoga mats, greeting cards, and more.
Filomena Irving currently lives on a farm in Washburn with her husband Scott.