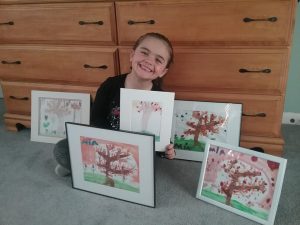 Presque Isle, Maine—Come support young, local artists and crafters at a unique Art & Craft Fair on Saturday, April 28, from 10:00 am to 2:00 pm, at the Wintergreen Arts Center.  Kids-only vendors will be displaying their creations including artwork, bookmarks, dreamcatchers, jewelry, key chains, magnets, slime, stuffed animals, and much more.
Admission is free to the public and everyone is welcome.
The idea for the Fair came when Wintergreen Board Member Danielle Clark overheard a conversation between two youngsters while volunteering at the Mapleton Elementary School during Craft Day.
"One student mentioned how they wished they could set up at a craft fair and another added there should be a craft fair just for kids," said Clark.  "The idea just blossomed."
When 11-year-old Faith Herweh, of Presque Isle, learned about the kids-only opportunity for young crafters, she convinced her parents to sponsor her $10 booth.
"I love making crafts and thought it would be fun to sell them in a craft fair," said Herweh, whose booth is pet themed.  "I'm excited about designing my booth and making money!"
Vendors must be younger than or 18-years-old, and bring their own table (6-foot maximum).  Each vendor needs to find a sponsor—a parent, relative, business, or friend—and fill out a contract.  Sorry, no home-baked food items for sale.  Interested kids or sponsors may call (207) 762-3576 for more information.
PHOTO:  Mia Dumont, age 5, of Presque Isle, shows some of her art that will be for sale at the (Kids-Only Vendors) Art & Craft Fair; a tree collection in watercolor, acrylics, and colored pencil; Mia's booth is sponsored by the National Weather Service.