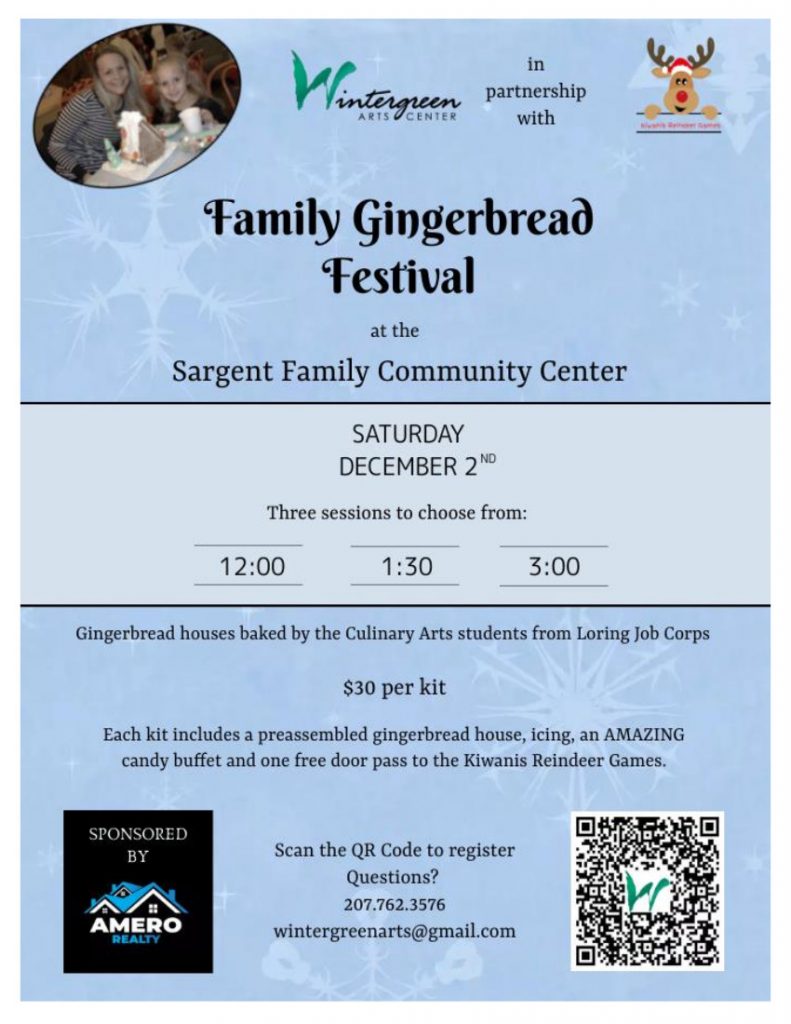 What better way to warm your hands and hearts than by joining in on the fun at Wintergreen's Family Gingerbread Festival in collaboration with our friends at the Kiwanis Reindeer Games

. Held
at the
Sargent Family Community Center.
Saturday, December 2, 2023
Three Sessions to choose from: 12:00 NOON, 1:30 pm, and 3:00 pm
Each kit includes a preassembled gingerbread house, icing, an AMAZING candy buffet, and one free door pass to the Kawanis Reindeer Games.
Gingerbread baked by the Culinary Arts Students at Loring Job Corps.



The AMAZING Candy Buffet sponsored by our friends at AMERO REALTY.
As soon as you enter our Family Gingerbread Festival, you will be greeted by the yummy smell of fresh gingerbread. We preassemble each gingerbread house for you, so you don't have to worry about waiting for the frosting to set. And you will be amazed by the array of candy that awaits you at our candy buffet! With hot chocolate in one hand and a bag of frosting in the other, you will be ready to go on a decorating spree! Don't forget to get your face painted and play a few games while you are here! The Family Gingerbread Festival will be an event that your kids will remember for years to come! Make us a part of your holiday traditions and make some memories to last a lifetime!