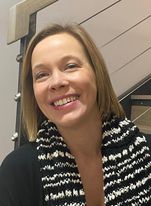 PRESQUE ISLE, Maine— Gretchen Violette was recently named events coordinator for the Wintergreen Arts Center. A native of central Maine, Violette has adopted Aroostook County as her home.
"Gretchen's long history with Wintergreen and the arts community serves her well as she switches hats from board chairman to events coordinator," said Dottie Hutchins, Wintergreen's executive director.
"In September, Gretchen's responsibilities grow to include management of Wintergreen's art exhibits, holiday signature events, and other public functions. Gretchen's dedication to our new space and future growth is remarkable."
Gretchen is no stranger to the Wintergreen Arts Center. She has worked on several Wintergreen events and initiatives over the years including the center's café, holiday signature events, as well as afterschool and summer arts programs.
Gretchen's most recent volunteer efforts at Wintergreen includes the organization's 2020 renovations project and move to the Aroostook Centre Mall. Gretchen led the budgeting process and oversaw all aspects of construction and final design. She took on the role of chairman of Wintergreen's Board of Directors shortly after that project.
"With our new, larger space at the Mall, I feel Wintergreen is ready to expand opportunities for local artists as well as offer more unique, creative experiences for our region," said Gretchen.
"I love the fact that my children have grown up at Wintergreen too," added Gretchen. "I feel having a vibrant community arts center is important to the people of Presque Isle and our surrounding communities."
Gretchen Violette currently resides in Presque Isle with her husband, Scott, and their children, Zoey and Ethan.
About Wintergreen Arts Center:  The Wintergreen Arts Center is a 501(c)(3) nonprofit organization founded in 2006, and located in Presque Isle, Maine. Wintergreen is an organization based on the idea that creativity, advocacy, and community can produce great things. Our mission is to provide meaningful experiences that encourage an appreciation of the arts, stimulate creativity and innovation, and offer an artistic community space where all are welcome.