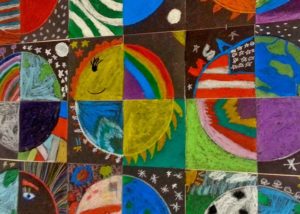 On November 10, Wintergreen Artist Andrea Gregg will lead a special Pizza 'n Paint Family Style event at the P. I. Housing Authority's Community Center.  This event is the third time Wintergreen has been invited to bring an art project to the PIHA Community Center.
During Pizza 'n Paint Family Style, Artist Andrea Gregg will help families create a Story Quilt on canvas. Each family member creates a strip or square of the canvas that they paint in their own design. The piece represents that individual family member and together they are unified as a quilt.
Andrea will coach and provide examples along the way of different designs family members may use to create their quilt.  This makes every family's painting unique.
Board Co-Chair Kim Guerrette Michaud will also be leading a quilt-themed craft for the little ones.  So, painting or crafting, there will be an art project for all ages!