Register and purchase gingerbread kits here.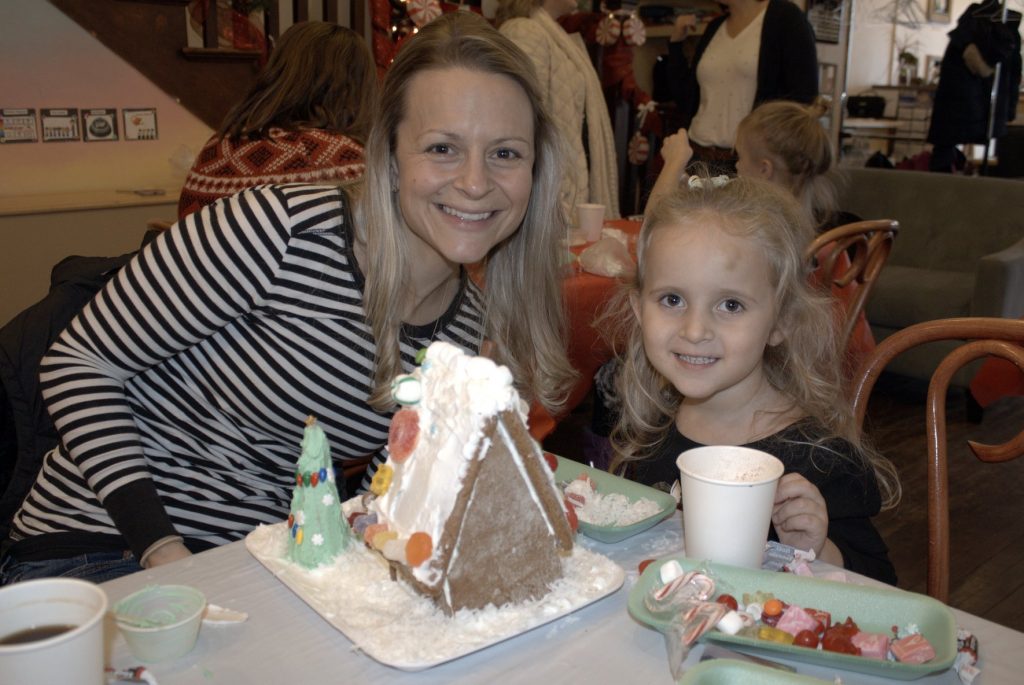 Bria Bouchard and her mom, Julie Bouchard, enjoying the last Family Gingerbread Festival back in 2018
PRESQUE ISLE, Maine—The Wintergreen Arts Center is bringing back its signature Family Gingerbread Festival on Saturday, December 2, at the Sargent Family Community Center in collaboration with the Kiwanis Reindeer Games.
"This is a special event bringing the community together through the joys of the Holiday Season," said Gretchen Violette, Wintergreen's events coordinator. "Find us in the Senior Room at the Presque Isle Rec Center where Festival goers will be greeted by the yummy smell of fresh gingerbread and the sweet sounds of Christmas music."
Families are invited to choose from three sessions —12:00 noon, 1:30 pm, and 3:00 pm — and gingerbread kits are just $30.00 apiece. Each kit includes a preassembled gingerbread house, icing, an amazing candy buffet, and one free door pass to the Kiwanis Reindeer Games. Hot cocoa will be served.
Gingerbread kits are limited. Families may register and reserve kits online at www.wintergreenarts.org.
People may purchase one kit for their entire family to decorate, or several kits if they have eager builders in tow.
"The gingerbread is baked with care by the talented Culinary Arts Students at Loring Job Corps," added Gretchen. "And the amazing candy buffet is sponsored by our friends at Amero Realty. We are thrilled to partner with the Presque Isle Kiwanis Club for this very special day of community celebration at the Kiwanis Reindeer Games."
Wintergreen's Family Gingerbread Festival is an event children will remember for years to come. Make the Festival a part of your holiday traditions and create some memories to last a lifetime.
About Wintergreen Arts Center: The Wintergreen Arts Center is a 501(c)(3) nonprofit organization founded in 2006, and llocated in Presque Isle, Maine. Wintergreen is an organization based on the idea that creativity, advocacy, and community can produce great things. Our mission is to provide meaningful experiences that encourage an appreciation of the arts, stimulate creativity and innovation, and offer an artistic community space where all are welcome.