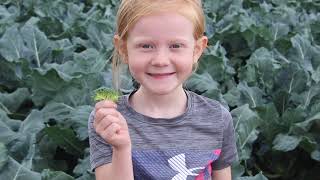 PRESQUE ISLE, Maine—Maine Community Foundation recently awarded a $10,000 grant to the Wintergreen Arts Center to create Wintergreen Kids News Network (WKNN), a digital storytelling project to broadcast real news by real kids about things happening across Aroostook County.
This grant is made in part from the Aroostook County Fund of the Maine Community Foundation at the recommendation of the Aroostook County Committee advisors.
"The creation of WKNN builds upon work our video production students and their teacher, Shaye McHatten, completed last summer about the importance of agriculture to our local economy," said Dottie Hutchins, Wintergreen's executive director. "Their video, Farming in Aroostook County, was also funded in part by the Maine Community Foundation and is found on Wintergreen's YouTube channel, https://www.youtube.com/watch?v=VmrBEr8VmwQ&t=4s."
The goal of WKNN is for students to create a kids news organization to produce digital storytelling projects that strengthen both the knowledge and perception of Aroostook County as a vibrant, important, beautiful place to live.
"The public's response to Farming in Aroostook County was amazing," said Hutchins. "It gave our students the inspiration to make it into a year around project to create more video clips about the people and places around them."
Wintergreen students will kick off the WKNN project this summer by creating branding graphics, a WKNN YouTube channel, website page, and a student editorial board to direct the project mission and content. Video news stories will range from one to 10-minutes in length with real news by real kids about things happening across Aroostook County.
About Maine Community Foundation:  Headquartered in Ellsworth, with additional personnel in Portland, Dover-Foxcroft, and Mars Hill, the Maine Community Foundation works with donors and other partners to provide strong investments, personalized service, local expertise, and strategic giving to improve the quality of life for all Maine people. To learn more about the foundation, visit www.mainecf.org.
About Wintergreen Arts Center:  The Wintergreen Arts Center is a 501(c)(3) nonprofit organization founded in 2006, and located in Presque Isle, Maine.  Wintergreen is an organization based on the idea that creativity, advocacy, and community can produce great things.  Our mission is to provide meaningful experiences that encourage an appreciation of the arts, stimulate creativity and innovation, and offer an artistic community space where all are welcome.