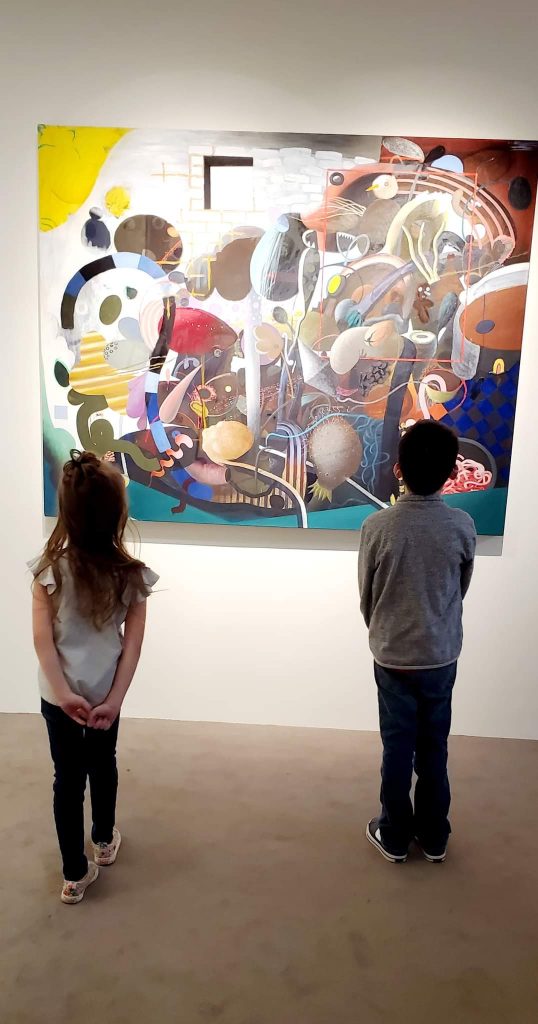 On February 24, Wintergreen students visited the Zillman Art Museum (ZAM) University of Maine in downtown Bangor.

Students were greeted by Rochelle Lawrence, museum educator, with a brief introduction on what to expect at the Linda G. and Donald N. Zillman Art Museum, Maine's only collecting institution devoted solely to exhibiting and collecting contemporary art.

Ms. Lawrence led our students on a tour of the museum's current abstract art exhibit:  
Circling Time featuring nearly 30 painting by Connecticut-based artist Deborah Dancy; and, Valley Low featuring a selection of paintings and wall-oriented sculptures by Jen Wink Hays who is based in Philadelphia, Pennsylvania. 

Our students also created their own art!  They were provided with materials for a paper collage activity with color and shapes as they discussed the abstract work observed in the exhibit.

Many thanks to Rochelle Lawrence for her excellent presentation, kindness, and help; and, sincere thanks to George Kinghorn, ZAM executive director & curator, for his help and enthusiasm for young students.

We are also extremely grateful for our friends, Don & Linda Zillman, long-time Wintergreen supporters, who made this trip possible.

A huge thanks to MSAD#1 for allowing us to ride "Big Blue" to Bangor and hats off to our Wintergreen chaperones:  Kara Addington, center manager, Lisa Brewer, preschool teacher, Brittany Delano, board member, Jessica Drew, parent, and Jess O'Donnell, friend and substitute teacher.

For more about ZAM, please visit their website.

PHOTOS:  Please take a tour with our students through the photos below.