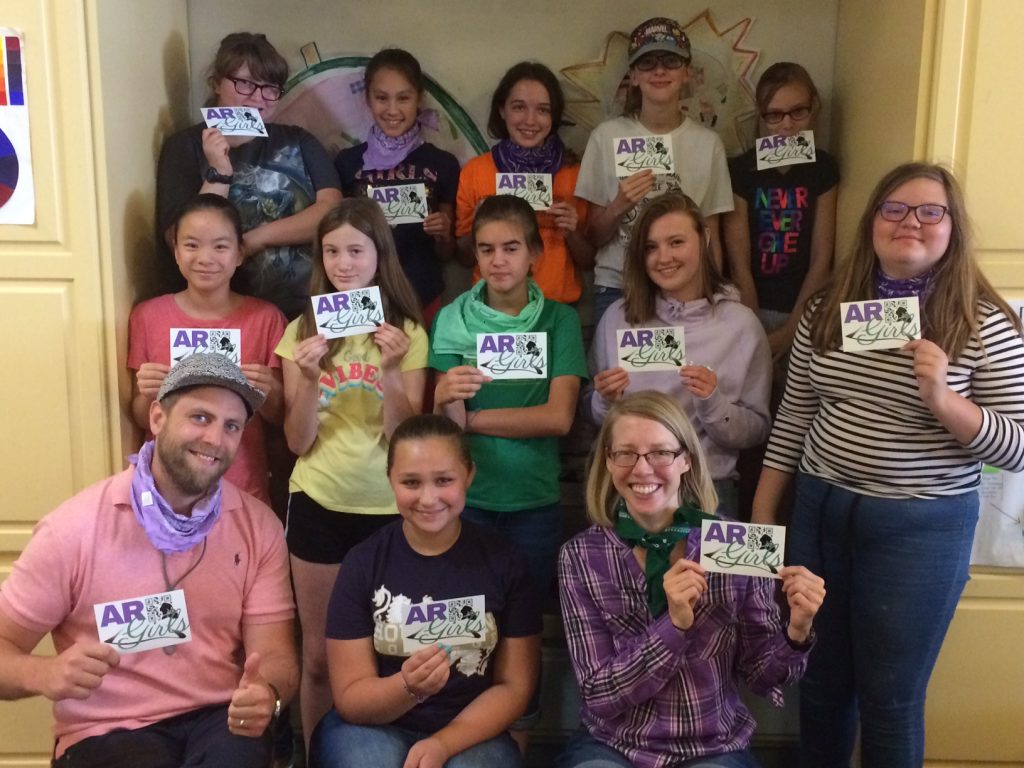 PRESQUE ISLE, Maine—Local teenage girls who are participating in the AR Girls program, a digital interactive art, design, and storytelling initiative spearheaded by the Maine Mathematics & Science Alliance (MMSA), will present a Community Showcase at the Wintergreen Arts Center on Saturday, October 12, from 1:00 pm to 2:30 pm.
The AR Girls Community Showcase is an opportunity for the girls to demonstrate the results of their efforts over the summer and fall to create digital games for the purpose of interactive storytelling experiences. Members of the public will be able to download a software application on their smartphones or devices and play along with the girls.
In July, the girls worked with two community partners, Trena Soucy, a scientist and biology instructor at the Northern Maine Community College, and Kim Smith, resource development and public information officer for the City of Presque Isle, who served as experts and mentors for the girls.
Together, the girls and their community partners, focused on healthy lifestyle choices, an issue important to Aroostook County. Working in teams, the AR Girls used ARIS technology to design unique games integrating digital art components for the user to experience and learn from at various stops on real-time tours in the downtown Presque Isle area.
The AR Girls project is the first of its kind in the nation aimed at increasing the participation of girls in STEM careers by empowering them to design Augmented Reality (AR) to communicate topics that are important to them and their community. AR Girls is a collaboration of the Maine Mathematics and Science Alliance (MMSA), University of Maryland Center for Environmental Science (UMCES), Oregon State University, University of Wisconsin: Madison, Harvard Graduate School of Education, and funded by the National Science Foundation's Innovative Technology Experiences for Students and Teachers (ITEST) program.
Augmented Reality is a contemporary mode of interactive storytelling in which a computer or mobile device is employed to blend real-life and digital content.
The AR Girls Community Showcase is free and open to the public. Everyone is welcome. Refreshments will be served.
PHOTO: Left to Right (Seated) Phelan Gallagher, MMSA, Alivia Smart, Amy Kamaraninen, Harvard Graduate School of Education, (Middle) Fiona Wu, Bailee McIntyre, Lariah Langley, Alyssa Addington, Ava Powers, (Back) Abby Shannon, Mia Shaw, Olivia Buster, Raegan McCormick, Diane Botting