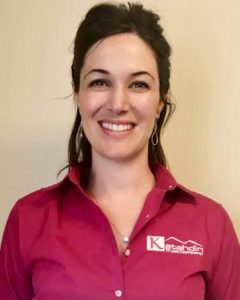 Presque Isle, Maine—Wintergreen Arts Center recently welcomed Billi Griffeth to its board of directors.  A native of Presque Isle, Griffeth is assistant vice president of retail sales for Katahdin Trust Company.
"Billi is going to make a fantastic board member," said Kim Guerrette Michaud, board chairman.  "Her insights to business practices combined with her knowledge of our children's programs, and being a Wintergreen Mom, make an extremely beneficial combination that will help Wintergreen continue to meet our goals and community mission."
Griffeth said, "Wintergreen Arts Center and its professional staff inspire children and adults to be courageous and creative, in a safe and inclusive environment.  The value of this impact to our local communities is priceless.  I feel fortunate to have the opportunity to serve and contribute to Wintergreen's bright future!"
Griffeth and her husband Joel currently reside in Presque Isle where they keep their three children active and exploring.