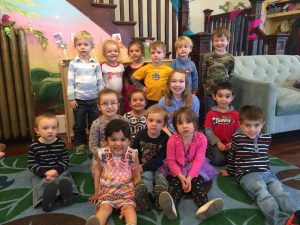 April is National Autism Awareness Month.  Throughout the month Wintergreen Preschool Teachers Lisa Brewer and Katie Greenlaw spent extra time talking with Wintergreen's littlest learners about the importance of being kind and patient with each other no matter what their differences may be.
On April 26, 2017, Mia Belle Brewer, a 10-year-old autism self-advocate, visited Wintergreen's Under the Willow Tree Creative Preschool where she read a story, played with, and talked to the children.
Mia has autism and she also has a sister with autism whose needs and challenges are very different than her own.
"Mia doesn't want to be or wish to be different, she likes being Mia," said Lisa Brewer, Mia's mother and Wintergreen preschool teacher.  "We think our students agree that Mia is perfect just the way she is."
PHOTO:  Left to Right (Seated, First Row) Saraphina Persaud, Cayson Morneau, Joyce Rankin, Kaiden Kelley, (Seated, Second Row) Derek Perry, Aiva Richardson, Mia Dumont, Mia Brewer, Jacob Delsignore (Standing) Chase Wolverton, Kenzie Pictou, Laynee Kirby, Casey Greenlaw, David Mautz, and Sawyer Martin